Load Point Sealing Systems
Conventional Skirting
Many facilities have the original skirt clamping systems on their conveyors. Skirt material is often exposed to material flow and air pressure variations of the discharge chutes, in these designs load centering and liner plates are not utilized and in many cases fail in a short periods of time. The Conveyor Specialties, Inc. approach is to solve these design shortfalls by installing abrasion resistant liner plates to protect the skirt material from the moving load and then incorporate high quality rubber and/or urethane skirt material. The skirt clamps are an in-house Conveyor Specialties, Inc. item that is fabricated in our shop. In addition to our conventional skirting system, Conveyor Specialties, Inc. also carries specialty lines like:
Ace Sureseal
The Ace Sureseal principle is a well proven solution to a problem area on the conveyor system. The idea is based on the 'labyrinth' seal, where material is presented with multiple barriers to prevent escape. The four barriers and associated gaps are 'self cleaning'. The moving belt under the Sureseal ensures that any material passing the rubber ridges is carried along inside the skirt profile, and later ejects into the main material flow. Having four barriers, Sureseal presents a 100% totally effective sealing arrangement for dust and fine particles at the load point of the conveyor.
Linatex Rubber Skirt
Linatex is the name acknowledged around the world as the foremost authority in the use of premium natural rubber for abrasion and impact resistance. Linatex rubber product s exhibit outstanding resilience, strength and resistance to cutting, tearing and abrasion and provide unmatched wear performance. Applications are limitless.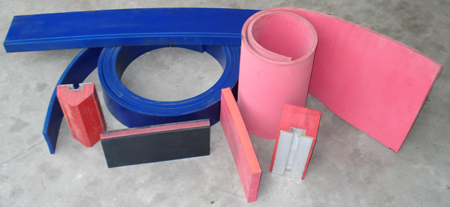 Polysteel Urethane
Polysteel Urethane Skirt material is made to outlast many other materials due to its abrasion/impact resistance and non-stick properties. When used as skirting material Polysteel Urethane provides an excellent return on investment.